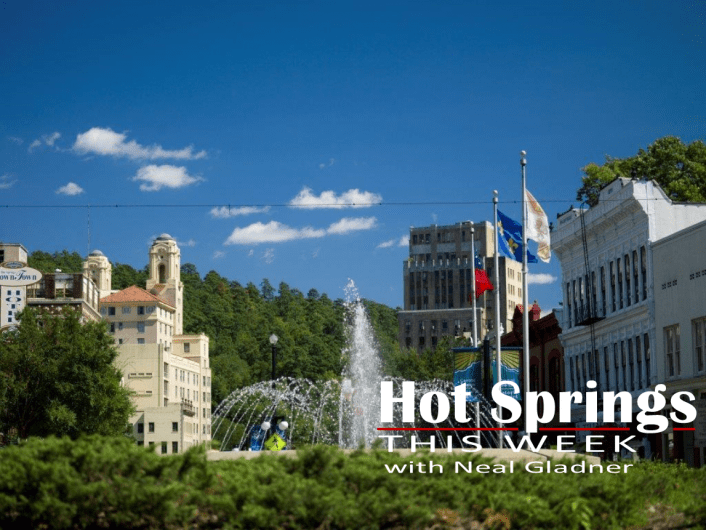 Hot Springs This Week is all about our wonderful city: things to do, interesting people, community information, and just about anything else that makes Hot Springs a top tourist destination!
Check back here each week for a new episode.
To subscribe and listen to this podcast on your favorite platform, click the icon below
Or listen below! 
---
Hot Springs This Week, Episode 11 (08/19/19)
Another popular place in Hot Springs is the Mid America Science Museum. You'll see dinosaurs when you walk in. There are a huge collection of static exhibits inside and outside MASM, over several natural acres. During the summer, they had a series of programs related to the 50th anniversary of the Moon landing. Voters in Hot Springs support the museum, and passed a measure allowing for construction of a new building to allow Mid-America to display larger traveling exhibits just months ago. The Museum started 40 years ago, and in this episode, we visit with Executive Director Diane LaFollette.
We'll also look at the things to do in Hot Springs over the next few weeks with Jennifer Bailey from KLAZ, and a look ahead to lake and river conditions.
---
Hot Springs This Week, Episode 10 (08/13/19)
The story of Mountain Harbor Resort starts with a man taking his son fishing in a newly formed lake. Mountain Harbor Resort remains a very popular destination for everything from families to anglers to business conferences. Bill Barnes owns and operates the resort, and tells the story of how it started, the struggle to keep it going, and even disagreements with his Father years ago on the direction of the Resort. Like many of the conversations in this podcast series, we find out its really a story of being an entrepreneur.
Plus, Jennifer Bailey returns and we'll run down events you can enjoy from this posting through Labor Day.
---
Hot Springs This Week, Episode 9 (08/05/19)
Louis Cella is the 4th generation of his family to oversee what is now Oaklawn Racing Gaming and Resort. As you'll hear, it's no coincidence that "Racing" comes first in the name. Oaklawn Park has been in operation since 1905. It's now in the midst of a $110 million expansion; including a larger casino, resort hotel, and event center. In our conversation, Cella talks about everything from the expansion, to the family's long love of and dedication to thoroughbred racing.
After the conversation, Bill Solleder from Visit Hot Springs joins me for a rundown of things to do in Hot Springs over the next couple of weeks, plus a quick preview of Spa-Con.
---
Hot Springs This Week, Episode 8 (07/29/19)
For three days in August, 52 of the best bass anglers in the world will converge on Lake Hamilton in Hot Springs for the FLW Forrest Wood Cup. Called by many the biggest bass tournament of all, they are competing for the first place prize of $300,000. In this episode, we talk with the FLW Director of Public Relations, Joe Opager. We'll also hear from one of the anglers, Billy McCaghren of Mayflower, AR, who has earned his first ever chance to compete in the FLW cup.
Plus, we have our regular visit with Jennifer Bailey about things you can do in Hot Springs in the coming weeks.
---
Hot Springs This Week, Episode 7 (07/23/19)

This episode features a conversation with Robert Raines – the owner of th
e Gangster Museum,
the first of its kind in America. Many people know that Hot Springs was a prime vacation spot for some pretty notorious members of the Mob. Robert has collected a lot of that history, and has great stories to tell about the mob members who came to Hot Springs, and how city leaders kept them from setting up shop here. Hot Springs was a wild place – and Robert has all the history, including how it all came to an end. Plus, a look at things to do in Hot Springs over the next few weeks.
---
Hot Springs This Week, Episode 6 (07/16/19)

This week, we visit with the man who makes magic and brings a smile during his show.
Maxwell Blade
has been performing magic in Hot Springs for many years, and recently completed the renovation of the historic Malco Theater. He talks about the difference between a "trick" and an "illusion," how he develops his routine, and even how magicians share talents and/or copyright certain illusions. We taped our conversation at the theater. Plus, our weekly look at coming events you can enjoy in Hot Springs.
---
Hot Springs This Week, Episode 5 (07/08/19)
Baseball spring training actually started in Hot Springs, and led to a rich baseball history in the Spa City. In this episode, Baseball Historian Mike Dugan tells us the healing waters brought the players here, and shares his years of research in a wonderful story about players like Babe Ruth and Cy Young, who enjoyed more than just baseball and the healing waters while they were here. Plus, we'll run down the things you can do while visiting Hot Springs over the next few weeks.
---
Hot Springs This Week, Episode 4 (07/01/19)
He was a Wall Street Money Trader – Now he's a Hot Springs Pizza Maker. A conversation with Anthony Valinoti of Deluca's Pizza – which writers have called the best Pizza in Arkansas. Plus, a look at events coming up for the 4th of July weekend.
---
Hot Springs This Week, Episode 3 (06/24/19)
Rose Schweikhart operates the first and only brewery in a National Park. In this episode, we hear the story of the Superior Bathhouse Brewery, plus a look at things to do in Hot Springs, AR over the next few weeks, including 4th of July events.
When Rose moved to Hot Springs and wanted to start a brewery using the natural Hot Springs water, she learned the only way to use the way was to actually brew in the National Park. So what was a historic yet vacant bathhouse became a restaurant and brewery, and it has exceeded expectations.
---
Hot Springs This Week, Episode 2 (06/17/19)
The history behind the iconic McClards BBQ with owner Scott McClard. The restaurant is going strong after 91 years, and you'll be surprised to hear how it all started. (Hint: someone couldn't pay their bill.) Plus, things to do starting the Wk of 6/17, and a quick look at lake information and projected flows to float the Ouachita River.
---
Hot Springs This Week, Episode 1 (06/10/19)
In this episode, we explore the things to do in Hot Springs, AR for the week of June 10th, and a few items beyond. This is the "get our feet wet" episode. Future episodes will also include interviews and information about the lakes around Hot Springs.