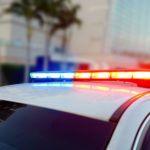 Authorities in Florida confirmed that the suspect in a Florida mass shooting is dead after being shot and crashing his car after a police chase. Lakeland Police Chief Sam Taylor said that officers had sought to arrest 21-year-old Alex Greene on Monday for an outstanding burglary warrant, but as officers went to arrest Greene, he fled.
Authorities said Greene ran into a restaurant and then proceeded to carjack another woman's vehicle; however when Lakeland police officers told Greene to get out of the car, Greene drove the vehicle toward the officer. The officer then shot Greene, whose swerved into oncoming traffic before crashing. Greene was declared dead after being transported to the hospital.
Police suspect that Greene was one of four gunmen in a sedan that opened fire on both sides of a street in "a challenged neighborhood" of Lakeland, Fla., on Jan. 30, injuring at least 10 people. Police Chief Taylor said "we are very confident he was, in fact, involved, to what extent we don't know yet." The victims were described as men between the ages of 20 and 35.
Editorial credit: Hernando Sorzano / Shutterstock.com