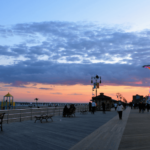 Police are searching for the gunman who killed one person and injured four others at the Coney Island boardwalk in New York City late Saturday.
The NYPD responded to the boardwalk and West 29th Street in Brooklyn after a 911 call reporting multiple people shot around 11:57 p.m. Saturday night. One 42-year-old man was killed after being shot in the back. The other four victims were described as a 49-year-old woman (who was wounded in the right leg), a 34-year-old woman (who was shot in the right foot), a 46-year-old man (who was wounded in the left leg) and another man shot in the left leg.  All victims were transported to NYU Langone Hospital in Brooklyn for treatment.
The NYPD has not released a description of the shooter; and the gunman still remains at large. It is currently unclear if the attack was targeted or not and police have not said if the victims knew their attacker. No further details have been given on the moments leading up to the attack.
Editorial credit: FashionStock.com / Shutterstock.com