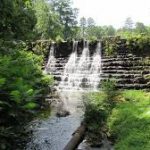 Parks and Trails receives grants and award
HOT SPRINGS – During the past week, the Hot Springs Parks and Trails department recently received confirmation of two grant funds and a statewide award.
The Arkansas Department of Transportation awarded $500,000 in Transportation alternatives program (TAP) funding for partial completion of the Jean Wallace Wetlands Trailhead, the next leg of the Hot Springs Creek Greenway, including parking, restrooms, playground, drinking fountain and a bridge connection to Tatum Street.
The Arkansas Department of Parks and Tourism awarded a $230,000 outdoor recreation grant as a 50% match for the completion of the David Watkins Park. The funds will be used to complete the amphitheater, restrooms, playground, barrier free elevated walkway, edible landscaping, memorial tree and graffiti mosaic.
The Arkansas Recreation and Parks Association presented the Festival of the Year award to Hot Springs Parks and Trails' annual October event, Tykes, Trikes, and Trails. The event teaches youth the basics of trail riding and bicycling safety. Parks and Trails staff, bicycle police officer Same Spencer and other volunteers conduct the event each year an Entergy Parks. Hot Springs Trails Coordinator Ken Freeman and wife Tracy created the event 12 years ago.
For information on Parks and Trails programs and events, call 321-6871.