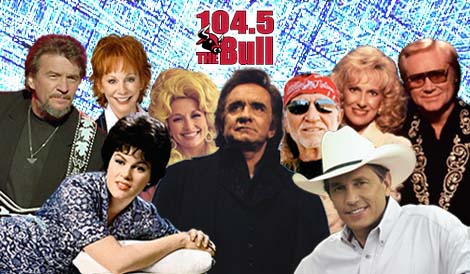 We are very pleased to announce that you can now listen to your favorite Classic Country songs from 104.5 The Bull online!
To access The Bull's audio stream, just click the blue button marked "104.5 Listen Live" at the top of any page on myhotsprings.com. Or if you're raring to go
right now,
you can
click here.
In order for our streaming audio player to work, you may need to install Silverlight on your PC. (If you currently listen to any of our other stations online--US 97, 101.9 The Rocket and/or Hot 96.7--you already have this plug-in.) If you need it, you can download it
here.
We have found this link to be safe; it's the one we use.
Hog Fans Please Note: Due to contractual limitations with the University Of Arkansas, we will not be able to bring you any of the Razorback games online. You'll still have to get those the time-honored way: by tuning your radio to 104.5 FM. While the Razorbacks are on the air, we will stream Classic Country hits online.
And Speaking Of Football: We will bring you all the Lake Hamilton High School games this season, on the air and online. Play-by-play will be handled by the highly-acclaimed team of Bob Clements and Tommy Inebnit.
We will continue our efforts to bring you the best possible sound quality at all times, and we plan to have free phone apps available--so you can take us anywhere.
Now, just in case we haven't told you lately, we appreciate your listening to 104.5 The Bull. However you do it. We couldn't do any of this without you!